VALUE PICK JUNE '18: Sundram Fasteners Limited
---
Company Background –
History
Started in 1966, Sundram Fasteners Limited is a TVS Group company and is one of the leading Auto Component Manufacturers in India.
Business
Sundram Fasteners as a company engaged in the manufacture of Auto Components. The Company's product range includes automotive pumps, cold extruded parts, gear shifters, gears and couplings, high-tensile fasteners, hot forged components, iron powder, powder metal components, and radiator caps.
Sundram Fasteners – Product Profile
1) High Tensile Fasteners:
The Company manufacture a range of high tensile fasteners for precision-driven sectors like Automotive, Aviation, Aerospace, Defence, Farm Equipment, Infrastructure, and Wind Energy.
2) Cold Extruded Parts:
The Company manufacture cold extruded and precision forged parts used in two-wheelers, front wheel drive vehicle, and internal combustion engines.
Product Range includes – Cams, CV joint parts, Fan hubs, Gear blanks, Starter sleeves and pinions, and Transmission shafts.
3) Hot Forged Parts:
The Company manufacture a range of key parts for the automotive sector;
Product Range includes – Bevel gear & Pinion family, Connecting rods, Crankshaft sprocket, Hub & Gen 3 Ben hub rings, RWD clutch hubs, and Stainless steel turbocharger parts.
4) Powertrain Components:
The Company manufacture and supply powertrain components to leading automotive companies across the globe.
Product Range includes – Clutch hub, Crankshaft sprocket, Output shafts, Slip yoke, Sungear shafts, and Turbine shafts.
5) Pumps & Assemblies:
The Company manufacture Pumps & Assemblies used in passenger cars, heavy and light commercial vehicles, off-road vehicles, tractors, combines harvesters, forklifts, marine engines, power generation engines, and two-wheelers.
Product Range includes – Camshafts, Fan support, Manual & Auto belt tensioners, Mechanical fuel feed pumps, Oil pumps, Rocket assemblies, Suspension & precision parts
6) Radiator Caps:
The Company manufacture products ranging from metal & nylon caps to assemblies.
7) Powder Metallurgy:
The Company is one of the leading manufacturers of Iron powder and Powder Metallurgy parts in India.
Product Range includes – Bushes, Rotors & gears, Shock absorber components, Structural parts, Synchroniser hubs, Valve train components.
Company's Subsidiaries –
The company's subsidiaries include
Upasana Engineering Ltd,
Sundaram Fasteners Investment Ltd,
Sundram Non-conventional Energy Systems Ltd,
Sundram Bleistahi Ltd,
Sundram Fasteners (Zhejiang) Ltd,
Peiner Umformtechnik GmbH,
Cramlington Precision Forge Ltd,
Sundram RBI Sdn Bhd,
Sundram International Inc,
PUT Grundstucks GmbH, and
Peiner Logistik GmbH
Manufacturing Locations –
The company and their subsidiaries are having 11 manufacturing locations in India and 4 in abroad.
Listed On –
The company's shares are listed for trading on National Stock Exchange (NSE) & Bombay Stock Exchange (BSE) in India.
Stock Information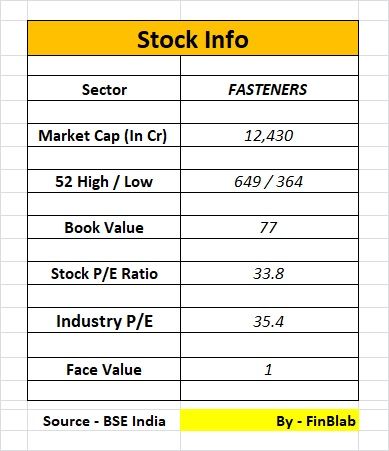 Share Holding Pattern
Sundram Fasteners – Financials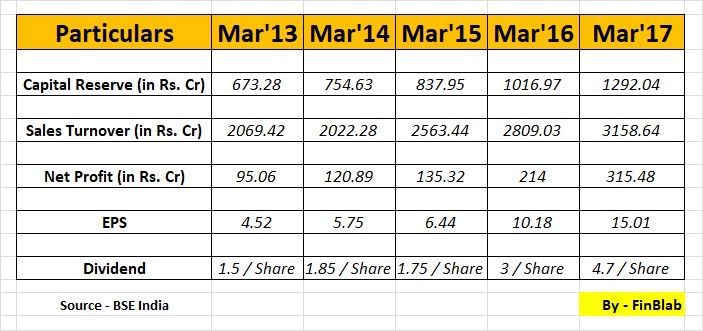 Conclusion –
Be it in the domestic markets or global markets, Sundram Fasteners Limited have been lauded for consistently delivering products and services that delight its customers, vendors, the OEM community and the aftermarket.
The company promoters have solid and steady stake since last 4 quarters (49.53%), and some of the well-known institutions like Life Insurance Corporation of India, General Insurance Corporation of India, The New India Assurance Company Limited, and FIIs have high stake in the company.
For Q4 FY18 the company has reported better than expected numbers. Standalone revenue was up 19% YOY at INR 945 Cr, 8% higher than estimate of INR 872 Cr. EBITDA was up 22% YOY at INR 166 Cr. The Company's PAT was up 9% YOY at INR 95 Cr, marginally better than estimate of INR 94 Cr.
Strong May 2018 Auto Numbers – Automakers continued with their robust volume growth momentum in May 2018. Barring few exceptions, all Original Equipment Manufacturers (OEMs) saw double-digit volume growth in May 2018.
Considering the above mentioned factors, the techno-funda analysis, and sector outlook in mind; Sundram Fasteners Limited looks good at INR 595. FinBlab recommends investing in a stock keeping a long-term view in mind. (One can accumulate on decline also).
Also Read –
1) Finblab's Valuepick Stock for the month of May – GMM PFAUDLER LIMITED (4.75% return in 1 month)
---
Disclaimer: The contents and data presented here are just for your information & personal use only. While much effort is made to provide the information, I ( Vishal Dalwadi ) or "Fin Blab" do not guarantee the accuracy, correctness, completeness or reliability of any information or data displayed herein and shall not be held responsible.
---