Au Financiers (India) Limited IPO – Company Profile, Price Band, IPO Listing and Closing Date, Analysis
---
Rajasthan (Jaipur) based NBFC (non-banking finance company) Au Financiers (India) Limited is planning to raise Rs. 1912 Crore via initial public offer (IPO).
Au Financiers (India) Limited – Company Profile
Incorporated in the year 1996 as L.N. Finco Gems Private Limited, Au Financiers (India) Ltd is Rajasthan (Jaipur) based NBFC focused on retail segment serving (1) middle and low-income people and (2) businesses that have limited or no access to banking and finance channels.
Working Area
The company operates mainly in three businesses:
Vehicle finance
Micro, small and medium enterprises (MSMEs) loans; and
Small and medium enterprises (SMEs) loans
Prior to the conversion into the bank, the company was categorized as a Systemically Important, Non-Deposit Accepting Asset Finance Company (NBFC-ND-AFC) by the Reserve Bank of India.
Small Finance Bank License
The company received a license from the RBI to set up a Small Finance Bank (SFB) on December 20, 2016, and it is the only NBFC categorized as an asset finance company to obtain such license.
Company Branches
As of December 31, 2016, Au Financiers (India) Limited had 300 branches spread across 10 states and one union territory in India, with a significant presence in the states of Rajasthan, Gujarat, Maharashtra and Madhya Pradesh and employed more than 6,000 personnel serving 270,692 active loan accounts.
Company Promoters
Mr. Sanjay Agarwal
Ms. Jyoti Agarwal
Ms. Shakuntala Agarwal
Mr. Chiranji Lal Agarwal
IPO Details – Issue Price, Minimum Bid and Other
IPO Opening, Closing & Listing Dates
Financial Performance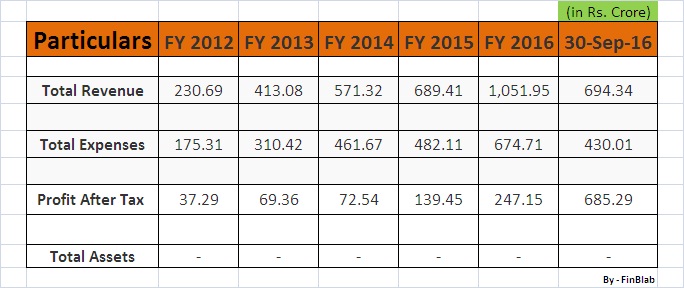 Revenues
The Company shows superb revenue growth in recent years. Topline has been increasing regularly for the last five years and jumped from INR 231 crore in FY2012 to INR 1052 crore for the year ended March 2016.
Profits
Though the company has shown superb growth in revenue, the company has also registered impressive profits in these years. Starting from INR 37 crore of profit in FY2012, the company's earning improved to INR 247 crore in FY2016.
Margin
The company' profit margin ranging between 12% to 23% in these five years.
CONCLUSION –
Considering company's valuation, financial parameters and long-term perspective, FinBlab recommends SUBSCRIBE ratings on Au Financiers (India) Limited issue.
---
Disclaimer: The contents and data presented here are just for your information & personal use only. While much effort is made to provide the information, I ( Vishal Dalwadi ) or "Fin Blab" do not guarantee the accuracy, correctness, completeness or reliability of any information or data displayed herein and shall not be held responsible.
---