IRCON International IPO – Company Profile, Price, Analysis
---
IRCON International Limited (incorporate by the Central Government (ministry of Railways) – an integrated Indian Engineering and Construction Company, is planning to raise INR 465.54 Cr / 470.49 Cr (all OFS) via initial public offer (IPO)
IRCON International Ltd – Company Profile
Incorporated in the year 1976, Delhi based IRCON International Limited is the leading turnkey construction company in the public sector known for its quality, commitment, and consistency in terms of Performance.
The Company is specializing in major infrastructure projects, including railways, aircraft maintenance hangers, bridges, EHV sub-stations, electrical and mechanical works, flyovers, highways, tunnels, runways, development of industrial areas and other infrastructure activities.
IRCON International – Services
Project Management Consultancy (PMC)
The Company provides comprehensive wide ranging PMC services starting from planning to commission in the entire spectrum of project.
PMC services are provided for construction of Railway Sidings, Railway and Road over Bridges, Buildings etc… either by IRCON on its own or through its wholly owned subsidiary IRCON Infrastructure Services Ltd.
IRCON International has a dedicated team of Project Management, Quality Management, and Contract Management professionals to undertake PMC jobs in Infrastructure sector.
Engineering, Procurement and Construction (EPC)
Comprehensive wide range of services from concept to commission is provided in the gamut of EPC Projects.
Execution of EPC projects involving high complexity and sophistication in the field of Railways, Highways, Tunnels, Bridges, Road over Bridges, Rail cum Road Bridges across major rivers, Airport Hanger & Runways, Metro Rail, Buildings, Extra High Voltage Transmission Lines & Grid sub-stations, Industrial Electrification, Signalling & Telecom System etc… is IRCON's forte.
Right from the phase of inception of a project through its execution and until its successful commissioning, IRCON is backed by a team of experienced Design Engineers, expert Technical staff, effective Project Management Personnel and an extensive fleet of equipment.

Public Private Partnership (PPP)
Major services were provided in the category of Public Private Partnership (PPP) projects in Railway sector on the basis of joint venture model along with state and other stakeholders under the DbFOT pattern on toll, annual institute and mixed annual institute basis.
For execution of such projects and timely completion, IRCON is dependent on the experience of Design Engineers, skilled Project Management Personnel with the help of its financial capacity.
Real Estate (RE)
IRCON undertakes development, construction and leasing of office realty spaces and development of commercial estates & important projects.
IRCON's Major Achievement
In 2016, IRCON International was ranked number 248 in the list of top 250 international contractors by Engineering News Record (ENR) of the United States.
Company's Order Book
As of December 31, 2017, the company's Order Book was INR 223,871.7 million.
Employee Strength
The Company has 1175 full-time employees on its payroll.
Company Promoters
The promoter of the company is the President of India.
IPO Opening / Closing Date
IPO Details – Price, Minimum Bid and Other
IRCON International – Financial Performance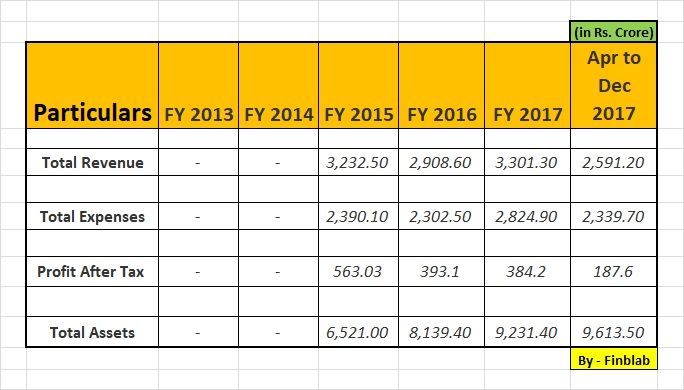 Revenue
IRCON International Limited shows an uneven revenue growth in last 3 years. Top-line for FY2015 was INR 3232.50 Cr and the same was INR 3301.30 Cr for FY2017 (INR 2591.20 Cr till DEC 2017)
Profit 
Same as Revenues, the company was unable to register growth in bottom-line. Company's PAT for FY2015 stood at INR 563.03 Cr and the same was INR 384.20 Cr for the period ened 31 March 2017 (INR 187.6 Cr till DEC 2017)
CONCLUSION –
Considering company's valuation and financial parameters, FinBlab recommends NEUTRAL ratings on IRCON International Limited IPO
Also Read –
1) Finblab's Valuepick Stock for the month of September 2018 – HIL Limited
---
Disclaimer: The contents and data presented here are just for your information & personal use only. While much effort is made to provide the information, I ( Vishal Dalwadi ) or "Fin Blab" do not guarantee the accuracy, correctness, completeness or reliability of any information or data displayed herein and shall not be held responsible.
---