Kiri Industries Limited: Value Pick Stock April 2019
---
Kiri Industries Limited, popularly known as "KIL" is one of the largest manufacturer and exporter of wide range of Dyes, Intermediates, and Chemicals from India.
History: Kiri Industries Limited
The company was incorporated in 1998 as Kiri Dyes and Chemicals Private Limited with the setting up of Dyes manufacturing unit at Ahmedabad, Gujarat.
Today, KIL is a fully integrated Dyes and Chemicals company and a winner of several CHEMEXCIL and GDMA performance awards.
Business
Kiri Industries Limited is an ISO 9001:2008 certified companies engaged in manufacturing of reactive dyes which are called synthetic organic dyes used for cotton fabrics like garments, dress materials, bed-sheets, carpets etc.
The Company is a preferred resource centre for many of the most extensive product lines in textile dyes.
In 2007, KIL embarked upon two stage backward integration by setting up India's largest Dyestuff intermediate manufacturing facility and largest basic chemicals facility at Baroda, Gujarat.
To further strengthen its competitive edge in the Dyes vertical, KIL formed Joint Venture with Long Sheng (China) and set up manufacturing facility for Dyes at Padra, Baroda, Gujarat.
On 4th February, 2010, Kiri Industries Limited acquired DyStar Group, through SPV Kiri Holding Singapore Pvt Ltd. Dystar acquisition is considered to be a historical development in the global Dyes industry.
Sophisticated quality control practices and procedures, modern manufacturing facilities and erp driven enterprise management has enabled KIL to offer internationally recognized quality products and services.
KIL is an accredited and certified Key Business Partner with world's top Dyestuff majors across Asia-Pacific, the EU and Americas.
Products
All the products manufactured by Kiri Industries Limited fall under in two groups, such as Reactive Dyes and Intermediate Dyes –
Reactive Dyes are the most versatile and popular class of Organic Dyes for importing color on cellulosic fibers. The Company offers a wide range of Reactive dyes like Kiraol VS dyes, Kirazol KR/KX dyes, Kirazol S &W dyes, Kiractive ME dyes, Kiractive ED dyes, Kiractive HE dyes, Kiractive CN dyes, and Kiractive P dyes to practically meet most of the requirements of cotton textile processors.
The product range of the company comprises of more than 120 dyestuffs used by textiles, leather, paint and printing ink industries with total production capacity of 10800 MT per annum.
Plants
Kiri Industries Limited has 4 plants situated Gujarat, India
Kiri Dyes and Chemicals Limited (100 % EOU UNIT),
Survin Laboratory,
Kiri Dyes and Chemicals Limited – Unit-II and
Parkin Industries – II
Company Reach
All initiatives taken by Kiri Industries Limited have enabled it to set its footprint in over 50 countries across 7 continents.
Listed On
The shares of Kiri Industries Limited are presently listed at Bombay Stock Exchange (BSE); CODE 532967 and National Stock Exchange (NSE) as KIRIINDUS
Stock Info – Kiri Industries Limited
Share Holding Pattern
Financials – Kiri Industries Limited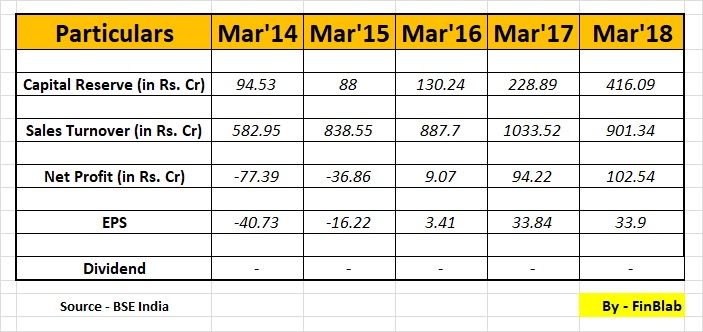 Conclusion
Kiri Industries Limited is one of the fastest growing Dyes and Chemicals Company of India.
The company is being promoted and managed by Praveen A. Kiri and Manish Kiri since last 30 years. Besides that, the promoters are having steady stake (more than 44%) since last 4 quarters.
For the period ended 31 December 2018, the company reported total revenue of INR 234.09 Cr versus INR 181.19 Cr, up 29.2% YOY, while the PAT up by 26% YOY (INR 22.10 Cr v/s 17.54 Cr)
Along with this, some of the top funds like Vikasa India EIF I Fund, GMO EMERGING MARKETS FUND, INDIA OPPORTUNITIES GROWTH FUND (PINEWOOD STRATEGY), APMS Investment Fund Ltd, CLSA GLOBAL MARKETS PTE. LTD and Moving Limited is having more than 1% stake in the company.
On the technical front, the share price of Kiri Industries Limited is trading above well above its 50 and 200 EMA on the daily chart.
Keeping the above listed points in mind, Kiri Industries Limited looks good at INR 590. Finblab recommends investing in the stock in staggered manner for medium to long term. (One can accumulate on decline also)
Also Read –
---
Disclaimer: The contents and data presented here are just for your information & personal use only. While much effort is made to provide the information, I ( Vishal Dalwadi ) or "Fin Blab" do not guarantee the accuracy, correctness, completeness or reliability of any information or data displayed herein and shall not be held responsible.
---