Lemon Tree Hotels IPO – Details, Price Band, Analysis
---
Lemon Tree Hotels (LTH) – India's largest chain in the mid-priced hotels sector and 3rd largest overall (on the basis of controlling interest in owned and leased rooms) – is planning to raise INR 1038.70 Cr (all OFS) via initial public offer (IPO)
Lemon Tree Hotels – Company Profile
Incorporated in the year 1992, Delhi based Lemon Tree Hotels (LTH) is India's largest hotel chain.
This award winning Indian hotel chain opened its first hotel with 49 rooms in May 2004 and operates 45 hotels in 28 cities with 4697 rooms and over 5000 employees (as on January 31, 2018)
Lemon Tree hotels are located across India, in metro regions, including the Bengaluru, Chennai, Hyderabad, NCR, as well as tier I and tier II cities such as Ahmedabad, Aurangabad, Chandigarh, Indore, Jaipur, and Pune.
Lemon Tree Hotels – Brands
The Lemon Tree Hotels offers 3 brands to meet hotel needs across all levels –
Lemon Tree Premier
Lemon Tree Hotels
Red Fox by Lemon Tree Hotels
Lemon Tree Premier
This chain of upper midscale business and leisure hotels elevates the Lemon Tree experience while retaining the same freshness, quirkiness and energy that Lemon Tree is well known for.
Lemon Tree Premier pampers the style conscious and upbeat traveler with its personalized services, premium in-room amenities, award winning restaurants and fun experiences.
Lemon Tree Hotels
This stylish business hotel with fresh and bright interiors refreshes you with its witty humor and spirited environment.
Targeted primarily at the midscale hotel segment.
Red Fox by Lemon Tree Hotels
It is targeted primarily at the economy hotel segment but welcomes you with its fresh bold interiors as well as crisp and clean rooms.
These economy hotels delight you with its unbeatable value and reliable safety standards.
Here friendly smiles and a lively environment go hand in hand with professional service.
Company Promoters
Spank Management Services Private Limited
IPO Opening / Closing Date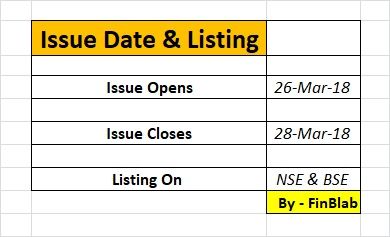 IPO Details – Price, Minimum Bid and Other
Financial Performance
Revenues
The Company shows steady revenue growth in recent years. Top-line has been increasing regularly for the last 5 years and jumped from INR 145.38 crore in FY 2013 to INR 223.76 crore for the period ended FY 2017.
Profits
Though the company has shown steady growth in revenue, the company fails to register steady profit growth in those 5 years. Starting from a loss of INR 20.34 crore in FY 2013, the company's earnings were INR 5.35 crore in FY 2017.
CONCLUSION –
Considering company's valuation, financial parameters, and the sector potential in which it is operating, FinBlab recommends NEUTRAL ratings on Lemon Tree Hotels Limited IPO for the time being
Also Read –
(1) Detail Analysis and Finblab View on ICICI SECURITIES LTD IPO
(2) Finblab's Valuepick of the month BALKRISHNA INDUSTRIES LIMITED
---
Disclaimer: The contents and data presented here are just for your information & personal use only. While much effort is made to provide the information, I ( Vishal Dalwadi ) or "Fin Blab" do not guarantee the accuracy, correctness, completeness or reliability of any information or data displayed herein and shall not be held responsible.
---