Mahindra Logistics Limited IPO – Company Profile, IPO Date, Price Band, Analysis
---
Mahindra Logistics – one of India largest 3PL (third-party logistics) solutions providers in the Indian logistics industry is planning to raise INR 829.36 crore (829.36 crore of OFS) via initial public offer (IPO)
Mahindra Logistics – Company profile
Incorporated in the year 2008, Mahindra Logistics Limited is end-to-end logistics solution and service provider. Mahindra Logistics is part of Mahindra Group (M&M), one of India's leading and reputed corporate groups with operations across several industries and countries.
Working Area
The Company operate in TWO distinct business segments;
(1) Supply Chain Management (SCM)
The Supply Chain Management segment of the company offers customized and end-to-end logistics solutions and services including in-factory logistics, transportation and distribution, warehousing, and value-added services to clients.
The Company operates the Supply Chain Management business through a pan-India network comprising 24 city offices and over 350 client and operating locations.
It has a large network of over 1,000 business partners providing vehicles, warehouses and the other assets and services for the Supply Chain Management business.
(2) Corporate People Transport Solutions (PTS)
The People Transport Solutions segment of the provides technology-enabled people transportation solutions and services across India to over 100 domestic and multinational companies operating in the IT, ITeS, business process outsourcing, financial services, consulting and manufacturing industries.
The Company operated People Transport Solutions business in 12 cities and over 120 client operating locations across India.
The Company offers services through a fleet of vehicles provided by a large network of over 500 business partners.
Subsidiary Company
Company's subsidiary, 2X2 Logistics, provides logistics and transportation services to OEMs to carry finished automobiles from the manufacturing locations to stockyards or directly to the distributors through specially designed vehicles.
Company's other subsidiary, LORDS, provides international freight forwarding services for exports and imports, customs brokerage operations, project cargo services and charters.
Awards & Recognition
3PL ACHIEVER OF THE YEAR award 2017 by global logistics excellence awards.
CII SUPPLY CHAIN AND LOGISTICS EXCELLENCE (SCALE) award 2017 in the 3pl category by cii through its institute of logistics.
3PL COMPANY OF THE YEAR award by logistics Asia awards, 2016.
Company Promoters
Mahindra & Mahindra Limited
IPO Opening / Closing Dates & Listing
IPO Details – Issue Price, Minimum Bid and Other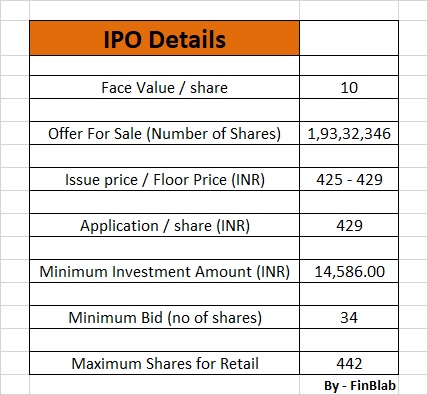 Financial Performance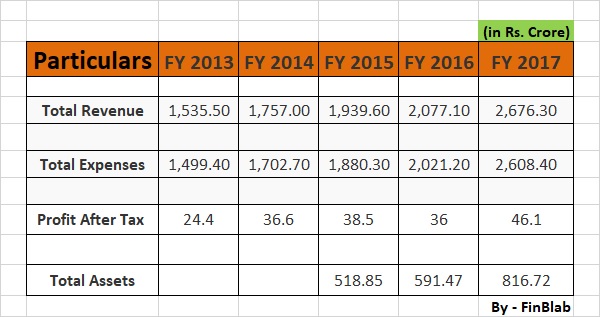 Revenues
The Company shows steady revenue growth in recent years. Top-line has been increasing regularly for the last 5 years and jumped from INR 1535.5 crore in FY 2013 to INR 2673.3 crore for the period ended FY 2017.
Profits
Though the company has shown superb growth in revenue, the company has also registered impressive profits in these 5 years. Starting from INR 24.4 crore of profits in FY2013, the company's earnings improved to INR 46.1 crore for the period ended FY 2017.
CONCLUSION –
Considering company's valuation and financial parameters, FinBlab recommends NEUTRAL ratings on Mahindra Logistics Limited IPO.
IPO Section link – www.finblab.com/category/ipo
---
Disclaimer: The contents and data presented here are just for your information & personal use only. While much effort is made to provide the information, I ( Vishal Dalwadi ) or "Fin Blab" do not guarantee the accuracy, correctness, completeness or reliability of any information or data displayed herein and shall not be held responsible.
---