MSTC Limited IPO: Company Profile, Price, Analysis
---
MSTC Limited – a Mini Ratna Category – I (PSU) under the administrative control of the Ministry of Steel, Government of India is planning to raise INR 213.81 Cr to INR 226.18 Cr (all OFS) via initial public offer (IPO)
Government of India has 89.85 percent shareholding in the company.
MSTC Limited – Company Profile
MSTC was incorporated as Metal Scrap Trade Corporation Limited, under the Companies Act, 1956 on September 9, 1964 at Kolkata.
MSTC Limited was originally incorporated to deal in export of ferrous scrap. On August 22, 1973 the company became a subsidiary of SAIL to act as a canalizing agent of the GoI for the import of metal scrap.
Since its incorporation till the de-canalisation of metal scrap by the GoI in 1992, MSTC was mainly engaged in import of metal scrap as a canalising agency of the GoI. After the de-canalisation, the company had decided to diversify its business and emerge as a multi-product and a multi-functional organization.
MSTC Limited – Business Activities
E-commerce:
Today, MSTC Limited is one of the leading PSU entity engaged in providing e-commerce related services across diversified industry segment offering e-auction/e-sale, e-procurement services and development of customized software/solutions.
The Company has emerged as a pioneer player in the e-auction segment catering to the Government sector, partnering with different Government agencies and ministries in conducting e-Auctions.
With an experience of over 1,90,000 auctions, serving over 1,10,000 users as at 31 December 2018, the company has emerged as the preferred service provider for various government and Government controlled entities, many of which are repeat customers.
Trading:
The Trading division of the company is engaged in import as well as domestic sourcing of bulk industrial raw material for actual users as well as traders.
This division looks after sourcing, purchase and sale of industrial raw materials like low ash metallurgical coke, HR coil, naptha, crude oil, coking coal, steam coal, line pipes etc. on behalf of our customers.
The Company mainly catering to customers across steel, oil and gas, power sectors in private and public sector.
Recycling:
MSTC Limited has also entered into the recycling business through a 50:50 joint venture with Mahindra Intertrade Limited (MIL) for setting up a shredding plant and collection centres across the country.
Company Presence
MSTC Limited has country-wide presence with 4 regional offices located in Delhi, Mumbai, Kolkata, and Chennai, 13 branch offices in major cities of India, and 3 site offices.
Achievements
MSTC E-Commerce certified as ISO 27001:2013 & ISO 9001:2015 and Software Development Division appraised as CMMI Level 3
Company Promoters
The promoter of the company is the President of India.
IPO Opening / Closing Date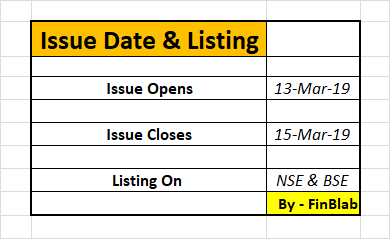 IPO Details – Price, Minimum Bid and Other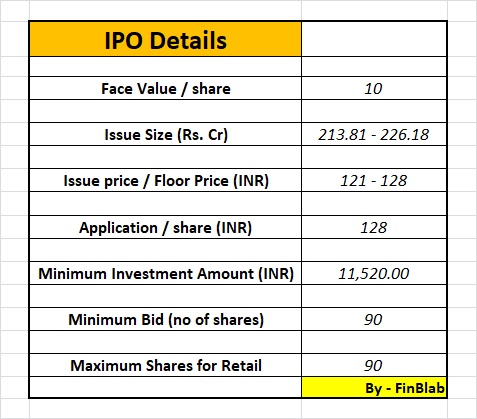 MSTC Limited – Financial Performance
Revenue
MSTC Limited shows an uneven revenue growth in last 3 years. Top-line for FY 2016 was INR 3307.80 Cr and the same was INR 2793.20 Cr for FY 2018 (INR 1491.60 Cr till SEPT 2018)
Profit
Same as Revenues, the company was unable to register growth in bottom-line. Company reported a loss of INR 265.80 Cr for FY 2016 and the same was INR -9.80 Cr for the period ended 31 March 2018 (a loss of INR 12.20 Cr for 6 months of 2018-19)
CONCLUSION –
Considering company's valuation and financial parameters, FinBlab recommends AVOID ratings on MSTC Limited IPO
Also Read –
Finblab's Value Pick Stock for the month of March 2019 – Kirloskar Brothers Limited
---
Disclaimer: The contents and data presented here are just for your information & personal use only. While much effort is made to provide the information, I ( Vishal Dalwadi ) or "FinBlab" do not guarantee the accuracy, correctness, completeness or reliability of any information or data displayed herein and shall not be held responsible.
---