RITES Limited IPO – Details, Price Band, Analysis
---
Rites Limited – a wholly owned Government of India Company, a Miniratna (Category – I) Schedule – A Public Sector Enterprise and a leading player in the Transport Consultancy and Engineering sector in India – is planning to raise INR 453.6 – 466.2 Cr (all OFS) via initial public offer (IPO)
RITES Limited – Company Profile
Started in the year 1974, RITES Limited is a Government of India Enterprise, under the aegis of Indian Railways.
RITES Limited an ISO 9001:2008 company, is a multi-disciplinary consultancy organization in the fields of Infrastructure, Transport, and related Technologies.
RITES Limited – Working Area
RITES Limited is a multidisciplinary engineering and consultancy organization providing diversified and comprehensive array of services from concept to commissioning in all facets of transport infrastructure and related technologies.
The major business engagements as consultants, engineers and project managers are in airports, highways, ports, railways, ropeways, urban transport and inland waterways in India and abroad.
The company also provides services of third party inspection, quality assurance, construction supervision & project management, operations & maintenance, leasing, export of rolling stock, solar & wind energy and modernization of railways workshop projects on turnkey basis.
In overseas projects, RITES actively pursues and develops cooperative links with local consultants/firms, as means of maximum utilization of local resources and as an effective instrument of sharing its expertise.

RITES Limited – Company's Expertise
Design, engineering and consultancy services in transport infrastructure sector with a focus on railways, urban transport, roads and highways, ports, inland waterways, airports, and ropeways;
Leasing, export, maintenance, and rehabilitation of locomotives and rolling stock;
Undertaking turnkey projects on engineering, procurement and construction basis for the railway line, track doubling, 3rd line, railway electrification, up gradation works for railway transport systems and workshops, railway stations, and construction of institutional/ residential/ commercial buildings, both with or without equity participation; and
Wagon manufacturing, renewable energy generation and power procurement for Indian Railways through collaborations by way of joint venture arrangements, subsidiaries or consortium arrangements
RITES Limited – Client List
In India, RITES Limited clients include various central and state government ministries, departments, instrumentalities as well as local government bodies and public sector undertakings.
The list include Airports Authority of India, Bharat Coking Coal Limited, Dedicated Freight Corridor Corporation of India Limited, DMRC, Hindustan Petroleum Corporation Limited, High Speed Rail Corporation of India Limited, Indian Railways, Indian Port Rail Corporation Limited, Metro Link Express for Gandhinagar and Ahmedabad (MEGA) Company Limited, NTPC, Public Works Department, Rashtriya Ispat Nigam Limited, Steel Authority of India Limited, among others.
The Company also engage with various large private sector corporations including AFCON Infrastructure Limited, ARK Services, Cimmco Limited, Geokno India Private Limited, Indian Geotechnical Services Limited, INCAP, Kanti Bijlee Utpadan Nigam Limited (KBUNL), L&T Metro Rail (Hyderabad) Limited, Mahalsa Constructions Private Limited, Marymatha Constructions Limited, MNEC Consultants Private Limited, Rajdeep Buildcon Private Limited, Snowmex Engineers Limited, Titagrah Wagons Limited, Unity Infraprojects Limited, and NATRIP Implementation Society, among others.
Company Promoters
The Promoter of the company is the President of India acting through the Ministry of Railway.
IPO Opening / Closing Date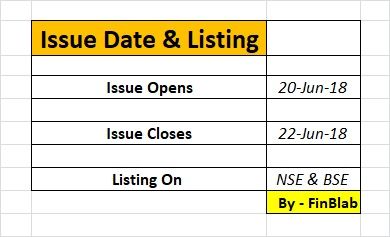 IPO Details – Price, Minimum Bid and Other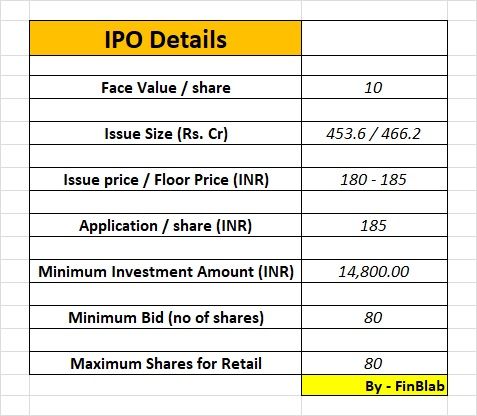 Financial Performance
Revenues
RITES Limited shows steady revenue growth in recent years. Top-line has been increasing regularly for the past 5 years and jumped from INR 1083 Cr in FY 2013 to INR 1564 Cr for the period ended FY 2017. (653.31 Cr till Sept 2017)
Profits
Though the company has shown steady growth in revenue, the company fails to register consistent growth in profits in past 5 years. Starting from INR 233 Cr of profits in FY 2013, the company's earnings stood at INR 362 Cr for the period ended FY 2017.
CONCLUSION –
Considering company's valuation and financial parameters, FinBlab recommends NEUTRAL ratings on RITES Limited IPO
Also Read –
1) Finblab's Valuepick Stock for the month of June – Sundram Fasteners Limited
---
Disclaimer: The contents and data presented here are just for your information & personal use only. While much effort is made to provide the information, I ( Vishal Dalwadi ) or "Fin Blab" do not guarantee the accuracy, correctness, completeness or reliability of any information or data displayed herein and shall not be held responsible.
---